Skardu, a paradise for nature lovers and adventure seekers, reveals its majesty. Through this complete traveler's guide to the top 15 places to visit in Skardu, we explore the famous places that make Skardu the unrivaled gem in Pakistan's Gilgit-Baltistan.
Skardu boasts a combination of amazing scenery and cultural diversity, from imposing mountains to pristine lakes, historic forts, and lovely valleys.
Join us as we explore the must-see places while appreciating the region's extraordinary natural beauty and rich cultural heritage.
15 Most Famous Places to Visit in Skardu
Deosai National Park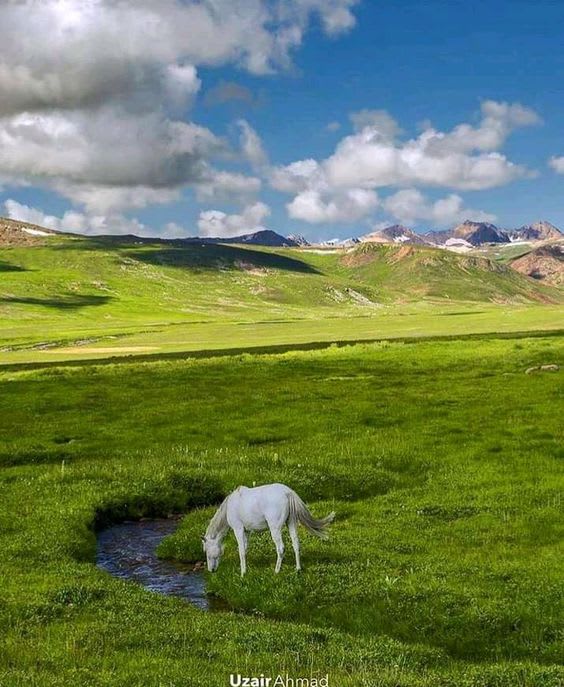 Deosai National Park in Pakistan, often referred to as the "Land of Giants," is a mesmerizing wilderness area tucked between the magnificent Karakoram and Himalayan ranges.
Visitors are captivated by the mystical splendor of this high-altitude plateau, one of the highest in the world. A paradise for nature lovers and adventure seekers, the scenery is composed of bright alpine flowers, lush green meadows, and clear streams.
In addition to its stunning scenery, Deosai is also home to a variety of animals, such as the Himalayan brown bear, ibex, red fox, and several bird species, which only serves to enhance the attraction of this remarkable park.
Sheosar Lake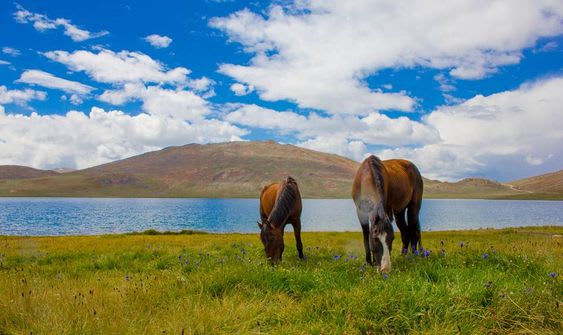 Sheosar Lake, a gem in Pakistan's Deosai National Park, is a sight of pristine beauty at an incredible altitude.
The surrounding peaks and lush meadows of this alpine glacial lake make for a captivating image. The name "Sheosar" translates to "Blind Lake," and it comes from the conventional wisdom that the lake is blind, although it appears to be clear because there is no obvious source of water there.
Visitors are enthralled by the ethereal reflection of the sky and neighboring mountains in the azure waters. Sheosar Lake guarantees a wonderful experience in the lap of the Himalayas, whether you seek comfort in nature's embrace or are an enthusiastic photographer.
Skardu Fort (Kharpocho Fort)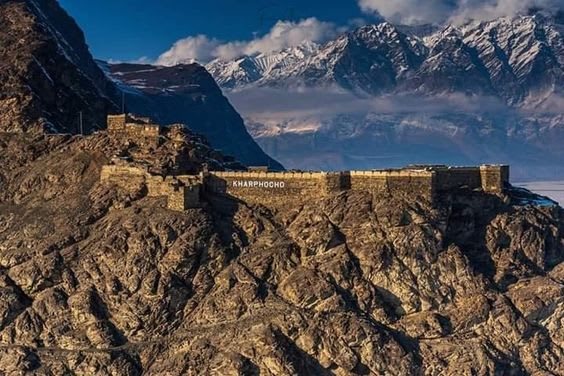 Skardu Fort, also commonly referred to as Kharpocho Fort, is an architectural wonder that towers over the historic Pakistani town of Skardu. This fort, which dates back to the eighth century, is a monument to the historical and cultural history of the area.
Its mystique is increased by the panoramic vistas of the Skardu Valley and the nearby Karakoram Range that are made possible by its advantageous location.
The fort's stone construction, elaborate wooden balconies, and antiquated artifacts that have been kept inside its walls provide a glimpse of Balti architecture and the region's rich past. It serves as an active reminder of Skardu's past and beckons guests to travel back in time.
Shangrila Lake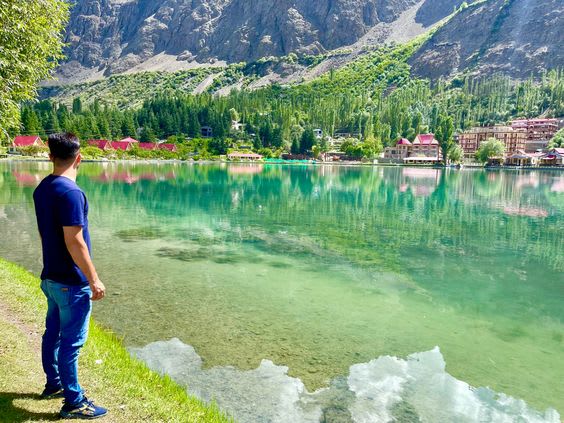 In the majesty of Skardu, Pakistan, Shangrila Lake, also known as Lower Kachura Lake, is a picture of unmatched natural beauty.
With good reason, the name "Shangrila" brings up visions of a mythical paradise. The lake is a magnificent sight, its turquoise waters mirroring the surrounding high peaks.
Visitors will find themselves in a picturesque environment as lush hills and tree groves surround this peaceful haven.
The presence of a boathouse that resembles a ship adds to the charm of this ethereal place while also boosting the lake's attractiveness. For those looking for peace in nature, Shangrila Lake is a must-visit location.
Upper Kachura Lake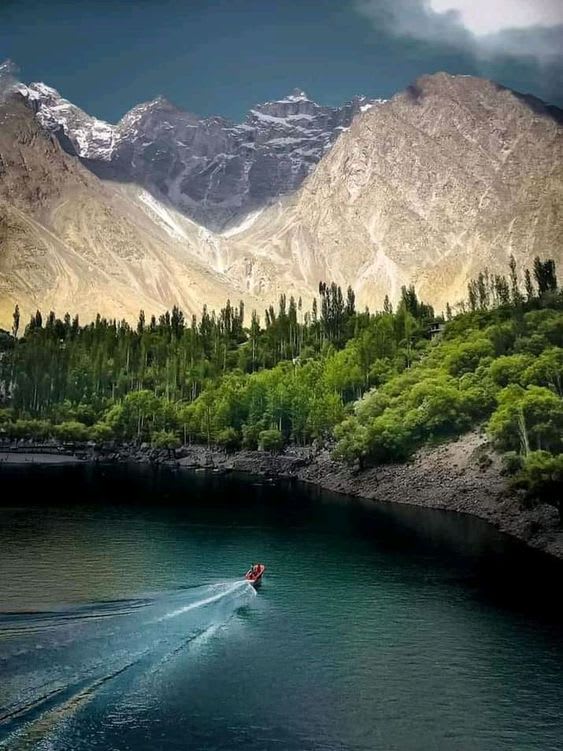 A captivating getaway into nature is provided by Upper Kachura Lake, a hidden gem in Skardu, Pakistan.
Visitors are mesmerized by this alpine lake, which is surrounded by untamed mountains, and its brilliantly blue waters that reflect the sky and the peaks above.
It is isolated from the hustle and bustle and emits a sense of calmness and tranquility, making it the perfect place for reflection and rest. The gorgeous backdrop is created by the surrounding terrain, which is covered in lush greenery and wildflowers.
Upper Kachura Lake, which is reachable by a short hike, is a haven for nature lovers, providing serenity and a chance to see the natural beauty of the Himalayan region.
Satpara Lake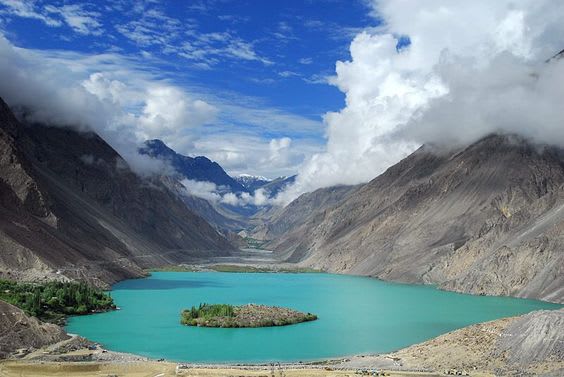 Every visitor to Pakistan's Skardu region is enthralled by the breathtaking lake known as Satpara Lake. The lake's green waters offer a tranquil and quiet atmosphere because they are fed by the Satpara Stream and surrounded by grand mountains.
A favorite pastime on the lake is boating, which provides breathtaking views of the surroundings. The lake is essential for providing Skardu and the surrounding areas with water.
Satpara Lake is an essential spot for a peaceful and scenic experience, as visitors may enjoy the crisp mountain air and the attractive simplicity of the area.
Basho Valley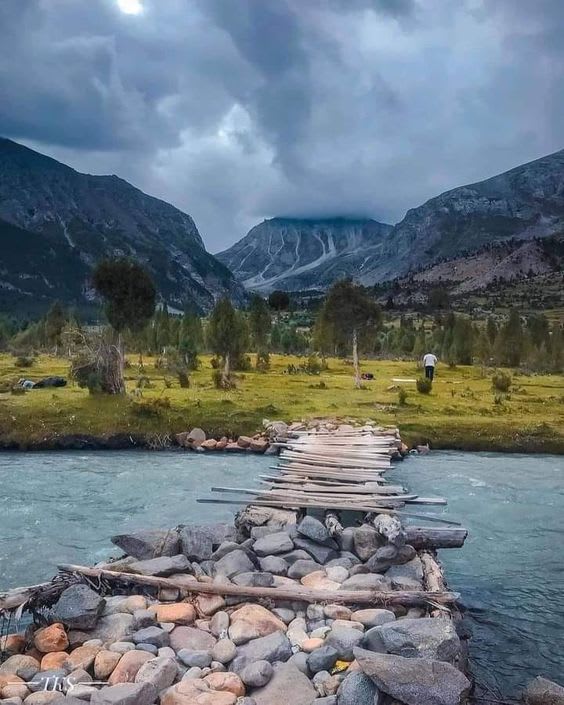 Basho Valley in Skardu, Pakistan, is a stunning place that resembles a living artwork created by nature. Imagine a scene with a clear river flowing through majestic, green mountains that reach the sky.
The Basho Valley truly is a haven for the wonders of nature. It's the ideal location for outdoor activities like picnics. You can view vibrant flowers and listen to the cheery bird sounds.
The air is clear and cool. Many people come here to unwind and escape the bustle of the city. Basho Valley is the place for you if you enjoy nature, peace, and a dash of adventure.
Hussainabad Waterfall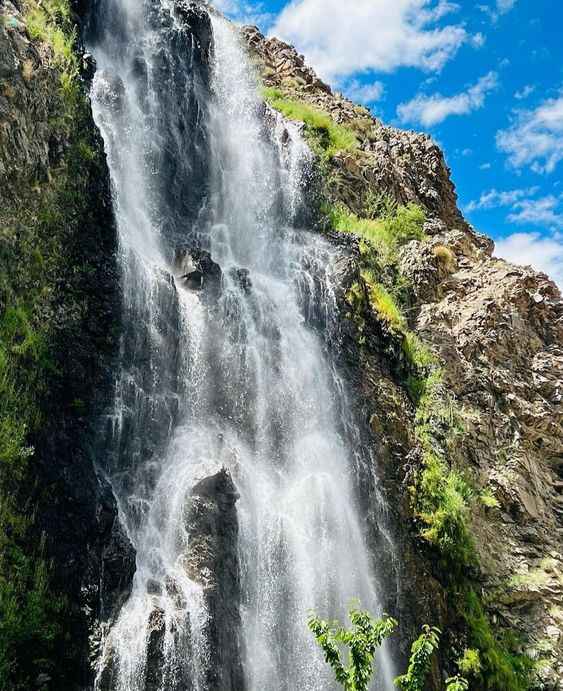 Hussainabad Waterfall is a magnificent waterfall in Skardu, Pakistan, where water dances down the rocks.
Imagine a curtain made of water that sparkles in the sunlight; it seems like something out of a fairy tale. The waterfall's relaxing, calming sound is comparable to listening to music. As you move closer, you can feel the cool spray on your face.
People adore coming here to take breathtaking images and to take in the natural symphony. It's a spot where you may let go of all your concerns and lose yourself in the magnificence of the present. A genuine gift from the natural world!
Manthal Buddha Rock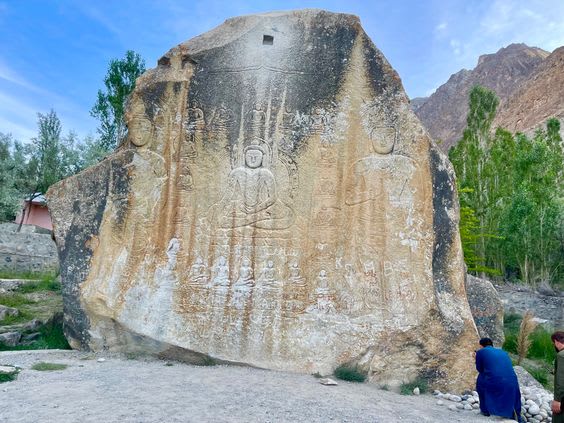 In Skardu, Pakistan, there is a special location called Manthal Buddha Rock, where history is preserved in stone.
On a huge rock, skilled carvers carved images of Buddha and lovely patterns long ago. It is like a book engraved into stone. The imposing rock narrates tales of bygone eras and the tranquil Buddhist culture.
Visitors from all around the world come to view and contemplate the past. It's like traveling through time and sensing the echoes of the past. The artwork is astounding, and it is certainly a wonder for curious minds to be so close to something so old.
Sadpara Lake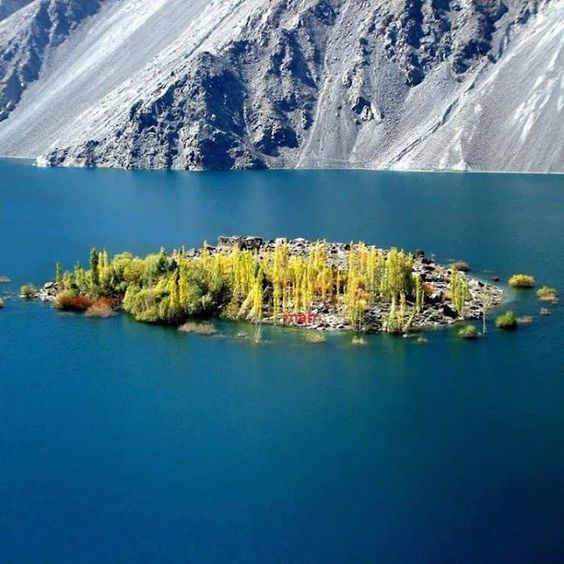 A gift from nature, Sadpara Lake is a well-kept secret in Skardu, Pakistan. Sadpara Lake is just like that: a huge, serene lake surrounded by high mountains.
A magnificent scene is created as its deep blue water shimmers in the hot heat. In its crystal-clear waterways, visitors frequently go boating and fishing. It's the ideal location for leisure because of the fresh breeze and breathtaking vistas.
There are moments when the lake mirrors the starry night sky, giving you the impression that you are dreaming. A spot to relax, take in some fresh air, and take in the beauty of nature is Sadpara Lake.
Khaplu Palace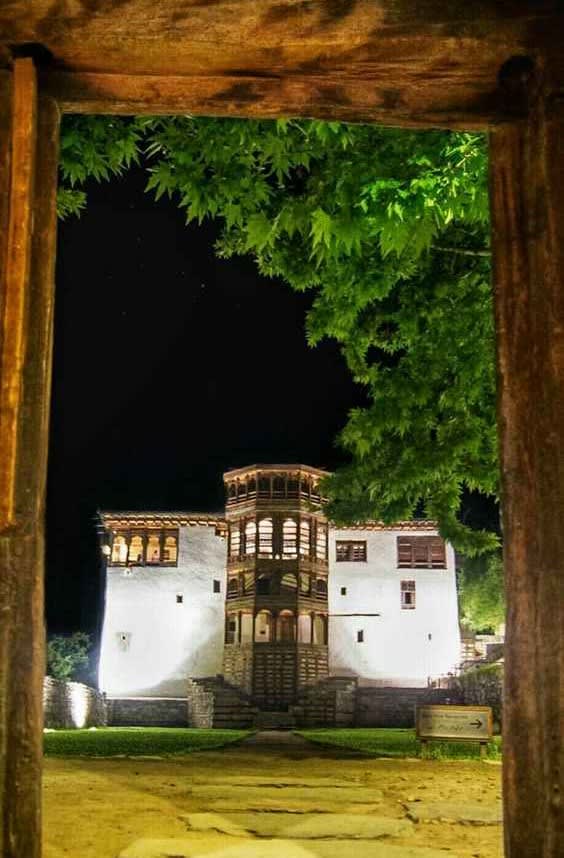 In Pakistan's Skardu, the imposing and historic Khaplu Palace resembles a castle from a fairy tale. It's a huge fort composed of wood and stone that dominates the surrounding majestic mountains.
Inside, you may view lovely rooms and hallways and consider how people formerly lived. It feels like traveling through time!
Additionally, the palace contains a museum where you may observe antiquated items and discover the history of the Baltistan region. A really wonderful location, Khaplu Palace reflects the grandeur and allure of the past.
Kachura Village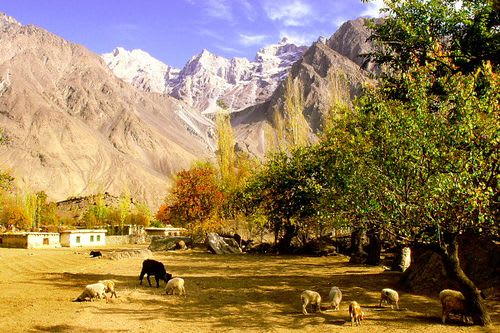 Kachura Village, an attractive spot in Skardu, Pakistan, is like something out of a storybook. Imagine a wonderful scene with vibrant flowers, lovely houses, and amiable people.
Green pastures and tall mountains that appear to reach the sky surround the settlement. The pace of life is relaxed and tranquil, and the air is clean and pure.
The locals are friendly and open, always willing to smile and exchange stories. In a charming picturesque village, Kachura Village is a great location to unwind, enjoy the scenery, and discover the simple pleasures of life.
Manthokha Waterfall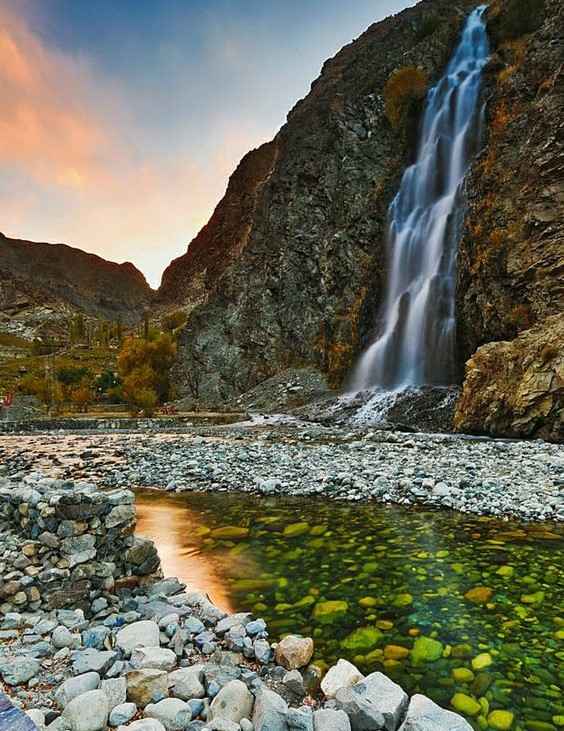 Water dances down the rocks of the Manthokha Waterfall in Skardu, Pakistan, producing a beautiful show. What a delightful gift from nature would be a mountain's natural rain!
The air near the waterfall is cold and pleasant because of the waterfall's wonderful sound as it runs and splashes. Many people come here for picnics and to experience the mist on their faces.
In actual life, seeing the waterfall is like viewing a stunning picture. A magnificent place where you may experience the vitality and beauty of nature is Manthokha Waterfall.
Katpana Desert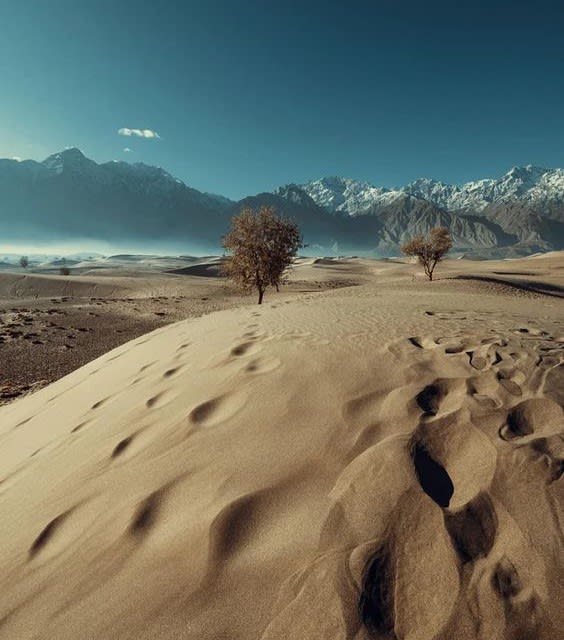 In Pakistan, the Katpana Desert is a gorgeous place close to Skardu. It resembles a sand sea in the mountains.
It's like nature's surprise when you see a large area of soft sand and rocks surrounded by high mountains. Despite being a desert, the weather is not extremely hot. The temperature is pretty cold and enjoyable.
As you walk on the sand here, it makes a distinctive sound. People visit to capture beautiful images and to take in the peace. The Katpana Desert is a wonderful combination of sand and mountains that has produced a very unique and incredible scene.
Rush Lake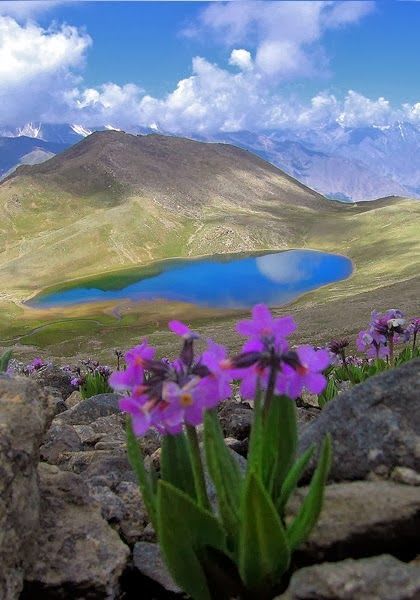 Rush Lake is situated in Skardu's Nagar Valley, close to the Hopper Glacier, one of the highest alpine lakes in the world.
Rush Lake, a mesmerizing location in Pakistan's mountains, is a unique lake in the sky. Rush Lake is a mirror-like lake that is situated so high that it seems to reach the clouds. It's like a hidden gem in the Himalayas, surrounded by towering peaks.
Throughout the day, the lake's hues shift like a chameleon from blue to green to silver. You must journey to get to this wonderful place, but the effort is worthwhile.
You experience a sense of calm and amazement while standing by Rush Lake because you know that here is a site where nature paints some of its most breathtaking scenes.
Best Time to Visit and Seasonal Activities in Skardu
Summer (Late May to September)
Weather: Skardu gets cooler evenings and milder daytime temperatures (15 to 25°C) throughout the summer, which is the peak travel season.
Activities: This is the greatest season for hiking, kayaking, camping, trekking, and discovering the area's natural beauties. Most trekking routes are accessible, and the paths are clearly marked.
Autumn (October to November)
Weather: Autumn is an ideal time to go outside because of the open skies and comfortable daytime temperatures (5 to 15 °C).
Activities: This is the best time of year for hiking, sightseeing, and photography because the landscape is covered in vibrant leaves.
Spring (April to Early May)
Weather: The region begins to thaw in the spring, and temperatures steadily increase (5°C to 15°C). The reasonably moderate temperature makes outdoor activities possible.
Activities: Trekking, touring, and taking in the blooming flowers and lush scenery are all best done in the spring.
Winter (December to March)
Weather: Winters are extremely cold, with frequent lows below zero, especially in higher elevations. There are frequent snowfalls, and the ground is completely covered in the white snow.
Activities: Winter is the perfect season for those who enjoy winter sports because it is common to ski and snowboard on the surrounding slopes.
Must-Buy Item from Skardu
Gilgit-Baltistan is well known for having a wealth of precious stones and minerals. A precious jewel is a unique souvenir you may buy in Skardu, whether it's for a loved one or as a special gift for yourself.
A variety of alluring colors may be seen in the gemstones discovered here, including aquamarines, tourmalines, topaz, and peridots.
These jewels serve as a lovely remembrance of Skardu's natural treasure troves, whether they are a bright pendant, a pretty ring, or an attractive bracelet.
They are a unique gift because they not only make beautiful accessories but also capture the region's rich geological past.
Skardu's Famous Agricultural Delights
Skardu is known for its top-quality agricultural products and is tucked away amid Gilgit-Baltistan's gorgeous scenery.
The apricots from Skardu are delicious; they are sweet, tart, and perfectly sun-dried. They are a well-loved treat. Another local delicacy is dried cherries, which offer a rush of both sour and sweet flavors that both residents and tourists adore.
Additionally, the area makes top-notch raisins that are sweet and healthy, perfect for cooking or nibbling. Prunes, which are derived from dried plums, are a tasty and healthful alternative.
Last but not least, Skardu's organic buckwheat flour stands out for its excellence and offers consumers who care about their health a wholesome, gluten-free substitute.
Best and Tasty Foods of Skardu
Balay (Goat Meat Noodle Soup)
Balay (Goat Meat Noodle Soup) is a warm, hearty dish that is ideal for the mountain climate. It is made with tender goat meat and locally sourced spices.
Prapu (Wheat Noodles with Walnut Paste)
Wheat noodles are combined with a creamy walnut paste to create the wonderful meal known as prapu, which offers a nutty flavor and a satisfying dining experience.
Gyal (Buckwheat Cakes)
Gyal, or traditional buckwheat cakes, are a core of Balti cuisine and give a variety of meals a distinct flavour and texture.
Marzan (Buckwheat with Apricot Oil)
Buckwheat and apricot oil are combined in Marzan, a simple but tasty dish, to produce a unique flavor that the locals adore.
Boiled Goat (Skinless)
A popular option with protein-rich, soft, and flavorful meat is skinless boiling goat.
Potato Stew (with Goat Meat)
Goat meat and potatoes are slowly simmered in a rich broth to create a hearty and tasty dish known as potato stew.
Mamtu
Mamtu are steamed dumplings that are filled with spiced minced beef and are a popular snack. They are frequently served with a tangy dipping sauce.
Butter Tea (Served with Buckwheat Flour)
Buckwheat flour is added to butter tea, a traditional Balti beverage, to create a unique and healthful beverage that is infused with the essence of the mountains.
Final Wrap
In Pakistan's Gilgit-Baltistan region, Skardu is a jewel that exhibits breathtaking natural beauty and a thriving cultural history.
This article features 15 famous places that offer a glimpse inside the unrivaled Himalayan sanctuary.
Skardu offers a sensory feast, from serene lakes to old forts. It's a place where adventure and serenity smoothly meld, rich in history, and graced by kind locals.
Skardu is a lovely place that passionate travelers can appreciate, and exploration reveals its genuine essence. Book your Skardu Trip With 0KM Tour Planner.