Lake Saiful Malook, which is located in Pakistan's Kaghan Valley's northernmost region, is a great example of nature's grandeur.
This picturesque lake with surrounding mountains, positioned at a lofty elevation of 3,224 meters, is more than simply a work of art; it's also a haven for thrill-seekers.
Lake Saiful Malook offers a wide range of activities, from exhilarating water sports in its beautiful waters to peaceful lakeside strolls and mouth-watering gastronomic experiences.
Join us on a virtual trip to explore the charm of this magical location where adventure and natural beauty coexist peacefully.
A Glance at Lake Saif ul Malook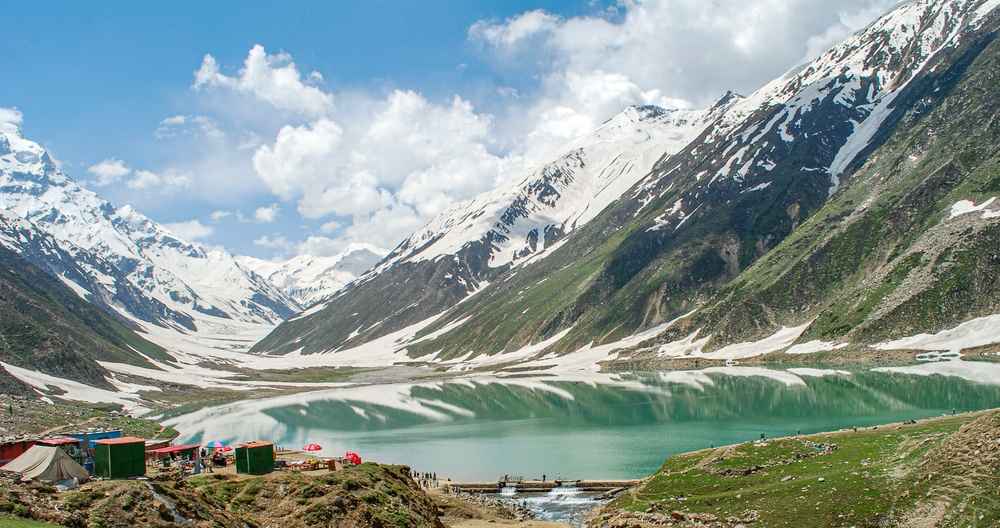 Saiful Malook is a mountain-framed lake in the Kaghan Valley's northern part of the Mansehra district of Khyber Pakhtunkhwa. This lake, which is 3,224 meters above sea level, is one of Pakistan's highest.
The snow exudes a sense of mystery and wonder as it flows softly into the depths of Lake Saif ul Malook.
A testament to its alluring and enigmatic beauty, the lake, standing in majestic grandeur, is full of fascinating tales of fairies and princes. Nearly 300,000 years ago, during the Pleistocene Period, Saif ul Malook first appeared.
The thawed water accumulated in a sizable depression that the glacier had once occupied as a result of the interaction between rising temperatures and retreating glaciers.
Exploring Saiful Malook: Seasons, Route, and Access
Most people may reach Jheel Saiful Malook in the summer, which lasts from May to mid-September. These months continue to have excellent weather.
However, access is restricted in the winter because of the risk of landslides and heavy snowfall cutting off the lake from surrounding areas.
The trek to the lake begins in Islamabad, the nation's capital. From there, a traveler can travel privately or save money by taking local transportation. By utilizing the Hazara Motorway, one can go to Mansehra city more quickly from Abbottabad.
The Naran-Babusar top road must be taken in order to reach the Naran Kaghan valley directly from the city of Mansehra to Balakot. After arriving in the Naran valley, visitors can climb an exhilarating distance to Saiful Malook.
Lake Saiful Malook: Natural Beauty and Starry Oasis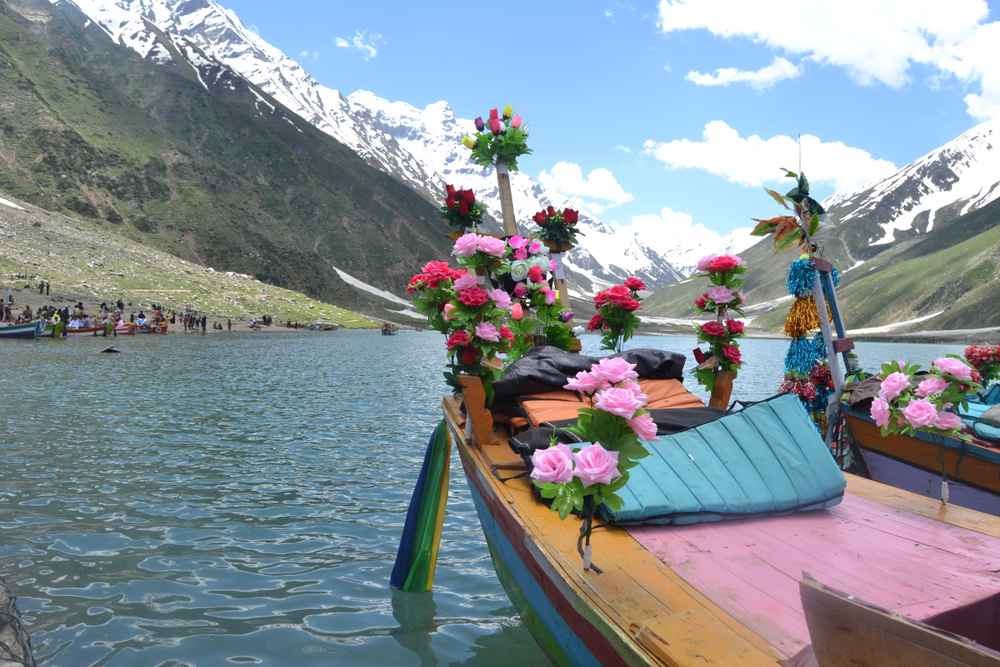 Lake Saiful Malook, one of the most alluring tourist locations in the world, never fails to amaze visitors. The lake is home to a diverse population of blue-green algae, which give it its captivating turquoise hue.
The depth of the lake, which is wrapped in mystery and the subject of enduring myths, is nestled beneath the commanding grandeur of Malika Parbat.
However, according to a recent study, Lake Saif ul Malook has a depth of around 34 meters (113 feet), a large surface area of 2.75 square kilometers, and a depth of about 113 feet. The lake, which frequently stays minus 10 degrees and receives glacier water, maintains a frigid temperature and is home to large brown trout.
This lake's attraction extends beyond the brightness of day; it also mesmerizes travelers at night with its allure.
A glorious show, the Milky Way decorated with uncountable stars, is presented to campers who spend the night here. A tapestry of fairy tales has surrounded this beautiful location due to this ethereal encounter.
Saiful Malook and Ansoo Lake: Tale of Love and Tears
This lake's story is linked with that of Ansoo Lake. According to legend, a prince named Saiful Malook once lived in Kaghan and had a passionate love for a fairy princess by the name of Badar Jamal. The demon Duo Safaid (White Giant), who also had feelings for the fairy princess, made their love story difficult to navigate.
When she eventually revealed her wish to marry Prince Saiful Malook, Duo Safaid realized that he had ensnared her. He broke down in tears as he realized his unrequited love, and the lake that is today known as 'Ansoo Lake' was created as a result.
The magnificent Ansoo Lake can be reached after a challenging seven to nine-hour hike from Lake Saiful Malook.
Various Activities & Delights at Lake Saiful Malook
Lake Saiful Malook's Allure and Activities
Aside from its amazing natural beauty, Lake Saiful Malook regarded as one of nature's masterpieces offers a wide range of attractions and experiences to improve the visitor's experience.
This wonderful lake welcomes both nature lovers and adventure seekers to its shores in Pakistan's north.
Exciting Activities in Pristine Waters
The clear waterways are ideal for water sports lovers to enjoy, including canoeing and boating. The picture-perfect setting for such activities is the lake's exquisite clarity, which enables guests to take in the serene ambiance while engaging in the excitement of aquatic adventures.
Snow sliding on the nearby glaciers is a popular and thrilling alternative for those seeking a shot of adrenaline, adding a bit of winter magic to the trip.
Leisure and Culinary Delights at Lakeside Serenity
Leisurely horseback or pony rides along Lake Saiful Malook's gorgeous shoreline allow guests to take in the natural glory at a leisurely pace.
The enticing aroma coming from the food stalls along the lakeside invites food lovers for a leisurely stroll and a savory gastronomic excursion. The lakeside provides more than simply adventure.
Local eateries, known for their unique flavors, tempt taste buds with the genuine cuisine of the area.
Visitors can set out on a culinary expedition, immersing themselves in the regional delicacies and adding a savory layer to their exploration while taking in the spectacular views of the lake.
These services enhance the overall appeal of these breathtaking locations, making a trip to the caves and lakes a feast for the eyes and the palate.
Caves and Ansoo Lake
In addition, there are intriguing caves nearby that are just waiting to be explored, luring adventurers to take a quick walk and learn the landscape's secrets.
A journey to the rare Ansoo Lake, cloaked in mist and mystery, awaits the few brave ones, making each glimpse of its wonder a treasured experience.
A visit to Lake Saiful Malook is sure to be filled with adventure, beauty, and amazing experiences due to the wide variety of activities and experiences it offers.
Lesser-Known Wonders of Lake Saiful Malook
In Pakistan's Lake Saiful Malook, which is tucked away in the midst of the majestic Himalayan mountains, are a plethora of enthralling mysteries that frequently go unnoticed.
Even though the lake is well-known for the way it looks and the romantic narrative that surrounds it, there are other, less well-known marvels that add to its attraction and mystery.
Luminescent Wonder
Lake Saiful Malook may become a mesmerizing spectacle under certain circumstances when bioluminescent microorganisms in the water provide a bright, shimmering display.
Anyone who is fortunate enough to see the lake's stunning luminosity will be entranced by this natural phenomenon, which transforms it into an amazing, shining wonder at night.
Prehistoric Geological Origins
Geologically speaking, Lake Saiful Malook has origins in the Pleistocene period of prehistory. The lake's basin was cut out by glacial activity and later filled with pure water, adding to the allure of its crystal-clear clarity.
These prehistoric geological features, which add to the lake's mystique and attract tourists to consider its unfaltering natural beauty, tell a story of the Earth's past.
Secret Underwater Caverns
Unknown underwater caverns and hidden holes lie hidden beneath the surface of Lake Saiful Malook. Visitors to the lake are captivated by the mystery and fascination of these mysterious depths, which are still mostly unexplored.
The hidden caverns pique people's interest and inspire fantasies about what wonders may be buried beneath the lake's clear waters, waiting to be discovered and understood by future explorers.
Special Flora and Fauna
Unique and native plants and animals can be found in plenty around Lake Saiful Malook. This habitat supports rare aquatic flora and unique animal species, enhancing its richness.
The lake supports a variety of life, frequently hidden or overlooked, strengthening the ecological value and enriching the alluring beauty of this natural wonder. These species range from elusive waterfowl to peculiar aquatic plants.
Transient Weather Changes
The weather patterns in Lake Saiful Malook are famous for being erratic and changing rapidly. The tranquil atmosphere around the lake can become an ethereal spectacle due to rapid changes in the weather, such as sudden fog and stunning cloud formations.
Visitors are in awe of the atmospheric drama that surrounds their journey to this magnificent lake as a result of these transitory weather changes, which give the area an ever-changing and mysterious aspect.
Mystical and Healing Concepts
Culturally and spiritually significant, some people think Lake Saiful Malook has healing and mystical qualities. The tranquil waters of the lake are associated with stories of spiritual purification in folklore.
Visitors frequently immerse themselves in these ideas in an effort to find comfort and healing, which heightens the ethereal aura that surrounds this natural wonder.
The atmosphere around the lake transforms into a serene area for rest and renewal that embraces the spiritual essence of its surroundings.
Concealed Water Sources
Beyond what is apparent, unseen subsurface springs and supplies support Lake Saiful Malook. These hidden waterways, which are intricately linked to the lake's basin, are essential to preserving the lake's crystal-clear water levels.
These invisible forces highlight the ecosystem's delicate equilibrium and expose the complex hydrological network that maintains the lake's amazing appearance and upholds its enduring natural beauty.
Ideal Timing to Visit Lake Saiful Malook
For an unforgettable experience, visiting Lake Saiful Malook at the right time is essential. The best time to visit is in the summer, from May to September when the weather is nice, and the lake and its surroundings are in full bloom.
During this time, the lake's crystal-clear waters reflect the brilliant blue sky, and the alpine meadows are adorned with vivid flowers, creating a stunning and wonderful scene.
Essential Items for a Smooth and Pleasant Journey
Before traveling to Lake Saiful Malook, a stunning natural wonder, careful planning is necessary to ensure a smooth and comfortable journey. Here is a list of the essential gear for a comfortable and enjoyable adventure.
Suitable Clothing for the Weather
It's important to pack layers of clothing for any unexpected weather. Your comfort will last the duration of your journey if you pack light, breathable fabrics for warm days, warm layers, waterproof coats, and sturdy footwear for cooler weather or unexpected downpours.
Fresh Water and Food
Bring along enough snacks and water to keep yourself hydrated and motivated while exploring. Portable meals are a great option because the picturesque surroundings of Lake Saiful Malook are perfect for a refreshing picnic.
Maps and Navigation
Cell phone reception can be spotty or nonexistent in the outlying locations near the lake. Make sure you have actual maps, a compass, or a GPS system to help you navigate through the uncharted terrain and hiking routes.
Medical Kit
Accidents can occur, especially when participating in outdoor activities. For minor wounds and illnesses, a first aid pack with bandages, antiseptic wipes, painkillers, and any required personal prescriptions is essential.
Photographic Materials
If you're a photography enthusiast, don't forget your camera, extra batteries, memory cards, and a tripod. Lake Saiful Malook's breathtaking vistas and lovely scenery are ideal for making priceless memories.
Insect Repellent and Sun Protection
Use sunscreen, hats, and sunglasses to protect yourself from the sun's rays. Additionally, by reducing bug bites, insect repellent will guarantee a comfortable outdoor experience.
Authentication and Cash
Carry enough cash because access to ATMs may not be available in distant places. Additionally, be prepared for checkpoints and accommodations by having your identity, permits, and other necessary paperwork on hand.
Packing List and Travel Necessities
You must use a sturdy, comfortable rucksack to transport all of your items. For added convenience, don't forget to include a power bank, toiletries, wet wipes, a torch, and a multi-tool.
These necessary items will ensure that your trip will go smoothly and pleasurable and that you can completely appreciate the fascinating beauty and adventure that Lake Saiful Malook has to offer.
Photographic Tips and Scenic Places
For any photographer, capturing the splendor of Lake Saiful Malook with a lens is a satisfying experience. Here are some helpful hints to improve your photographic journey and the best picturesque locations to capture this natural wonder's captivating allure.
Photography Tips
Magic of the Golden Hour
The best lighting for illuminating the lake and its surroundings is available during the golden hours of early morning and shortly before sunset.
Composition is Important
To give your pictures more depth and intrigue, experiment with composition strategies like the rule of thirds, leading lines, and framing.
Change up Your Perspective
Explore several perspectives and angles to find interesting and engaging views of the lake, including high, low, close-up, and wide-angle.
A Long Exposure for Relaxing
Especially at sunrise or sunset, use long exposure photos to smooth out the lake's water and produce a tranquil and ethereal impression.
Attention to Details
To add depth to your photos, zoom in to catch fine details like water reflections, textured pebbles, or bright vegetation.
Scenic Places
Princess Badri-ul-Jamal's Point
From this vantage point, which offers a breathtaking panoramic perspective framed by the nearby peaks, you can capture the magnificence of the lake.
Meadows of Fairies
A quick walk up to fairy meadows offers an elevated view of the lake that highlights its brilliant hues and unspoiled surroundings.
Lake Saiful Malook Shoreline
Discover the several locations around the lake's shoreline, each of which offers distinct photographic opportunities due to the water's various tones and reflections.
Ansoo Lake View
A journey to Ansoo Lake provides a breathtaking aerial perspective of Lake Saiful Malook, making it possible to capture stunning scenery photos.
Lalazar Plateau
Capture the lake from Lalazar at a higher elevation, taking in its splendor amid the beautiful green terrain.
You'll not only be able to capture the breathtaking beauty of Lake Saiful Malook by using these photography strategies and visiting these picturesque locations, but you'll also be able to preserve its charm in your photos, maintaining the mystique of this beautiful spot.
Conclusion
In conclusion, Lake Saiful Malook, which is embraced by mighty peaks, embodies the grandeur and adventure of nature. Its crystal-clear waters beckon water sports enthusiasts for an exhilarating ride across breathtaking scenery.
The lovely shoreline provides a beautiful setting for a leisurely horseback ride, which can be followed by a great culinary adventure. Nearby caves entice the adventurous, promising a mysterious adventure.
And the legendary Ansoo Lake offers a mystery walk cloaked in mist to a select few. A natural wonder called Lake Saiful Malook offers an unforgettable combination of scenic beauty and thrilling adventures.